Authenticity and connoisseurship
Evidence and circumstances
In the recent development of studies of Chinese art history in America and Europe, increasing importance has been put on evidence-based judgement. Evidence can come in many forms, both confirming and non-confirming hypotheses about individual works.
Inventories of imperial and other collections can provide a basic 'catalogue entry' for artworks, noting the inscriptions and seals in some cases. In modern times, one also finds scattered records of sales and instances of exhibition or publication. Such publications provide a consistent identification, and also support authenticity or qualitative assessment – one can see what manner of expert or curator supported the work.
The most distinctive form of documentary evidence for Chinese painting is attached to the painting itself in the form of inscriptions and seals of former collectors or connoisseurs who were invited to inscribe the work. Intrinsically, these additions support an attribution as well as provide a judgment about quality. It is particularly meaningful to find inscriptions that are nearly contemporary with a work's creation, and by figures – often other artists - known for their judgment.
Examining seals and inscriptions is an important area for research, with much attention to accepted standard references. In addition, attention is given to circumstances, such as considering that the seals found are those known to have been used at this point in an artist's career and in relation to the sorts of subjects or style he painted at that time.


Seal and colophon of emperor
Qianlong (乾隆, 1711-1799)
on WEN Dian's (文點 1633-1704)
Handscroll, Ink and colour on paper (dated 1682)
32.5 x 314 cm
Private collection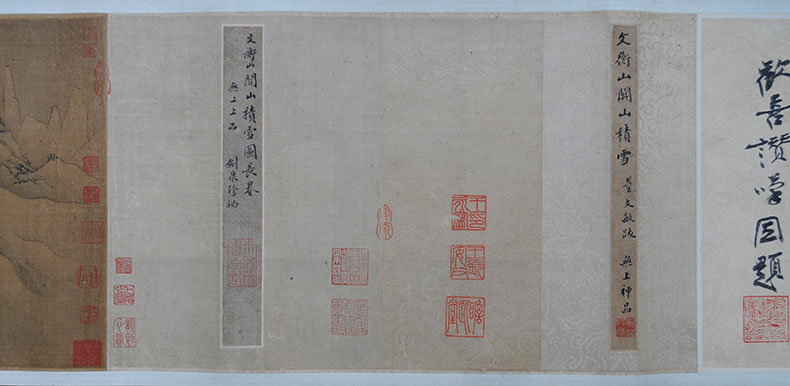 Collectors' seals and former titleslips mounted on
WEN Zhengming 文徵明 (1470-1559)
Mount Guan Snowscape
Handscroll, ink and colour on silk
21 x 418 cm
Private collection